Now, more than ever, your dental website plays a vital role in building your practice and establishing a "hub" for your patient community. Your website should not only attract patients, but also allow them the opportunity to get to know you and build their trust in you and your practice team. Perhaps most importantly, your dental website should elevate the overall level of patient satisfaction which will, in turn, lead to link-sharing and word-of-mouth referrals from satisfied patients.
In a time where the large majority of the population turns to the Internet for sharing and discovery, you should make sure that your dental practice website helps you meet, or even exceed, your patients' expectations. By executing the recommendations in the following list of guidelines you'll be giving your patients and your practice a big reason to smile.
Give Patients a Warm Introduction to Your Practice. One of the most important missions your website should accomplish is making each and every patient feel like they are being welcomed into a "family." Be sure that the very first paragraph on your site's homepage delivers that message. Chances are if a patient found and is visiting your website he/she is looking for a dentist either immediately or in the very near future. Your goal should not be to convince a patient why he/she needs you (chances are they already know that), but rather why he/she should visit your practice over that of a competitor. Make sure to sum up some of the highlights of your practice and your staff in one easy-to-read paragraph before moving on to other details. Consider adding a video spokesperson for your website to deliver a warm, customized message to your visitors. Remember, patients who feel welcomed and are intrigued tend to stick around and learn more – and eventually request an appointment.
Educate Your Patients About Procedures You Provide. It's nothing new – a great percentage of the population is nervous (or even terrified) about going to the dentist.  The truth is that a great deal of that anxiety is often due to unfamiliarity with treatment options or specific treatment plans. And often times that anxiety and uncertainty is what ultimately keeps a potential patient from taking action and scheduling an appointment. Educating your visitors about the specific treatment options you provide will give them a higher level of comfort and also assist in patients forming reasonable expectations about the ways you and your staff can help to alleviate their issues. And remember, we're not talking about all of the gory details here; rather, a detailed overview of what you will do and what the patient should expect. Alleviating their fears in this manner can not only lead to more requests for appointments, but also a greater overall level of patient satisfaction.
Give Patients the Ability to Request an Appointment Right from Your Website. We live in the age of "now," and giving patients the ability to request an appointment online can lead to increased new patient growth. Patients don't always have the time during normal business hours to call your practice, and if they do they certainly don't have the time to wait on hold. Providing a "Request for Appointment" form will allow your visitors to contact you when it's convenient for them, or whenever they feel like taking action. And remember, for many people there's much less anxiety involved with filling out a form than there is with picking up the phone. Providing this option will not only increase patient satisfaction, but also allow you to measure the effectiveness with which your dental practice website increases case acceptance.
Integrate Patient Satisfaction Surveys. Without a doubt the best insight into the overall "health" and efficiency of your practice comes from your patients. Maybe they are pleased with your staff but are unhappy with the wait times they've experienced. Maybe they rave about the work you've done but are much less complimentary about the "mood" of your office. Maybe their answers will surprise you entirely. Whatever the case, giving patients a chance to voice their opinions gives you valuable resources with which to improve your practice. It also lets your patients know that you care about their experience(s) with you. That feeling of care is one that greatly improves trust and satisfaction and also increases patient loyalty and word-of-mouth referrals.
Certainly marketing your practice is an important building block for growth. But always remember that patient satisfaction is the key ingredient in the recipe for your practice's success.
Need assistance increasing patient satisfaction using your dental practice website? Dentricity can help! Give us a call today at 888-956-1010 to learn more.
Summary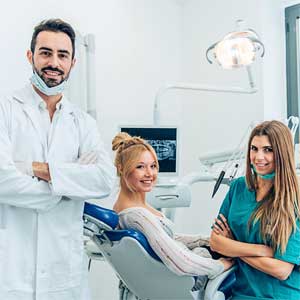 Article Name
Using Your Dental Website to Increase Patient Satisfaction
Description
Now, more than ever, your dental website plays a vital role in building your practice and establishing a "hub" for your patient community.
Author
Publisher Name
Publisher Logo