The facts are fairly astounding!
More people now access the Web via their smartphones or tablets than do so using their home computers or laptops. While this little-known fact may seem like a harmless no-brainer to those who follow technology trends, unprepared business owners can find their bottom lines severely impacted if they act now for this reality.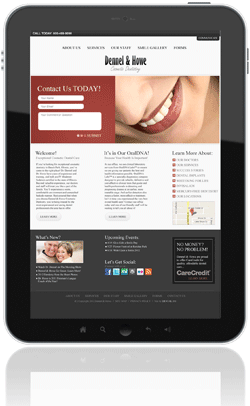 The reason: most company websites aren't optimized for use on the smaller devices. Such unprepared sites don't load properly, are much slower to come up, photos often don't work, and some simply don't load on smartphones at all. When someone's on the go (or even using their phone from their couch) and searching for a place to find the service they desire they want to find it quickly. If your practice doesn't give them that ability via a mobile website, it's on to the next one. To them, it's as if you don't exist.
Mobile Websites are a MUST!
Readying websites for mobile compatibility isn't just a matter of making a few tweaks here and there to a traditional site. When you factor in the number of smartphones on the market and the number of browsers available on such phones, it's easy to see how the process of making a website work across platforms can become highly complicated.
Dentricity is well aware of the smartphone trend and is ahead of the curve. We aren't playing catch up with our clients. We knew this day was coming and already offer our clients the following mobile design services:
Mobile website solution that allows your practice website to be viewed on mobile devices
Your mobile website will automatically be updated whenever your practice website is edited
Mobile-specific features such as click-to-call
Optimized for fast download times on mobile devices
Compatible with all major mobile platforms (Android, iOS, et al)
And more!
Don't be left playing catch up. When the smartphone rings your website, make certain your company is at home.
Contact Dentricity today at 888-956-1010.
Call now to speak with one of our friendly experts and find out how a Dentricity website will bring new patients to your dental or medical practice.
Looking for New Patients?
Contact us and speak with one of our friendly experts to find out how a Dentricity website will bring new patients to your practice.