Websites for Dentists and Medical Professionals
Anyone can create a website.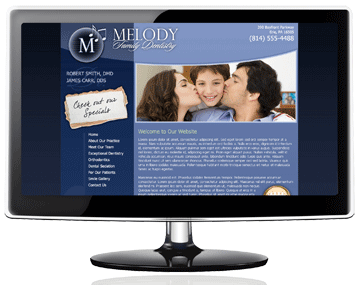 With the possible exception of the most technologically unsavvy among us, the above statement generally is true nowadays. A quick Internet search for "dental website design" turns up countless businesses advertising themselves as capable of creating websites for anyone – sometimes even for free. Be warned! Nowhere is the old adage "you get what you pay for" truer than it is in the world of website design.
Still, there are so many options that confusion is commonplace. But the number one choice for dentists and medical professionals is the same as it always has been: customized website development is the best way to get specific results from professionals who know your dental practice, your products and what it is you're hoping to achieve through your online presence.
Dental Website Design – Attract New Patients Today!
Dentricity is your customized dental website developer. We work with dentists and healthcare professionals. All kinds of dentists and healthcare professionals – including orthodontists, cosmetic dentists, chiropractors, optometrists, dermatologists and more. But beyond that, we have the ability to introduce your practice to a much broader audience that will get you noticed. Our years of experience working solely with dentists and healthcare organizations will pay off for you and your patients. The end result will be an attractive, highly functional and organized website catered specifically to your practice.
We believe the best quality of Dentricity websites is that they are unique. Our sites are catered to your specific practice needs. We keep them that way by offering three design packages. They include:
Silver: Offers 5-10 pages of content, including domain name, hosting on our servers, free updates and basic search-engine optimization
Gold: Includes all of the above and 10-20 pages
Platinum: Includes all of the above, 20-100 pages, flash introductions, before and after pictures of your patients, online patient forms and more!
Dentricity's designers possess the rare ability to mix function and fashion, meaning you'll get a dental website that that is highly user-friendly and also one that looks better than the competition's.
It's Simple: We Build Websites for Dentists
Yes, almost anyone can create a dental website. But if you want a dental website design that's catered to your individual practice needs, looks fantastic and is created by a company that specializes in and understands the field of dentistry, Dentricity is your best choice. It won't take an Internet search to figure that out. You're already where you need to be. Now all it will take is an old-fashioned phone call.
For a free consultation with one of our dental website design experts, call us today at 888-956-1010.
Call now to speak with one of our friendly experts and find out how a Dentricity website will bring new patients to your dental or medical practice.
Looking for New Patients?
Contact us and speak with one of our friendly experts to find out how a Dentricity website will bring new patients to your practice.